Chairman Clyburn's Opening Statement at Hearing with Walensky, Fauci, and Kessler
Washington, D.C. (April 15, 2021) —Rep. James E. Clyburn, Chairman of the Select Subcommittee on the Coronavirus Crisis, delivered the following opening statement at today's hybrid hearing with top Biden Administration health officials: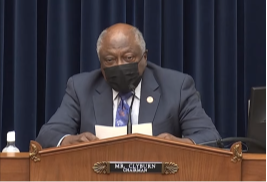 Remarks (as written):
This pandemic has taken a heavy toll on our nation.  More than 550,000 of our fellow Americans have died—more than in any other nation on Earth.  Nearly 1 in 10 has been infected.  And millions have faced hardships like job loss, mental health struggles, and the loss of a loved one. 
But today, more than a year into the pandemic, there is reason for hope.  Our government's response to the coronavirus crisis is now driven by science and fact—not politics and wishful thinking.  After the previous Administration failed to contain the virus, this new approach is already showing results. 
Since President Biden took office, we have seen a massive increase in the pace of vaccinations.  Just look at the progress we have made since January 20.  We are vaccinating more than 3 million people each day, with a record of 4.6 million shots this past Saturday.  More Americans were vaccinated this past week alone than in the first six weeks of the vaccine rollout.  One-third of the U.S. population has now received at least one dose of the vaccine.  And four days from now, all adults will be eligible to receive a vaccine.  We are on the path to finally defeat this virus. 
Yet challenges continue.  To protect all Americans from this virus, we must ensure that vaccines are distributed equitably and that vaccine hesitancy is overcome.   Black and brown communities, rural communities, and low-income communities have all been ravaged by the pandemic, and we must take special care that they are not left out of our recovery. 
Overcoming these challenges is especially urgent because we are now seeing more contagious and deadlier variants spread.  These variants are driving a recent increase in new infections, especially among younger adults who may feel less vulnerable to the disease and let their guard down. 
In some states, new cases and hospitalizations have more than doubled in the last two weeks.  Hospitals have begun to see more patients in their 20s, 30s, and 40s.  I look forward to hearing from today's witnesses about what measures we must continue to take to save lives before all can be vaccinated.
We are joined today by three of our nation's top public health experts to help us understand how a science-driven approach will put us on a path to return to near-normalcy that can be sustained.
Dr. Anthony Fauci is the Director of the National Institute of Allergy and Infectious Diseases, and the most trusted voice guiding Americans through this crisis.  Dr. Fauci, I am glad to welcome you back to the Select Subcommittee.  Your expertise has led us through some of the darkest days of the pandemic and I thank you for your candor and for your service and dedication to the American people. 
Dr. Rochelle Walensky is the Director of the Centers for Disease Control and Prevention.  Dr. Walensky, under your leadership, the CDC is reaffirming its commitment to science following the political interference of the prior Administration and is being restored to its role as the world's preeminent public health organization.  I look forward to learning more about your work and how you and all of our nation's scientists are working to protect our public health.
Dr. David Kessler, the Chief Science Officer for the Coronavirus Response, is leading the Biden Administration's vaccination efforts.  He was previously appointed by President George H.W. Bush to serve as Commissioner of the FDA.  Dr. Kessler, I thank you for being here today to update us on our progress toward vaccinating all Americans. 
Dr. Walensky, you recently said, "We are at a critical point in this pandemic, a fork in the road, where we as a country must decide which path we are going to take."  As we navigate what we all hope will be the final months of the pandemic, we must take the path of science.  After so many have died, this is the path to preventing further loss of life.  After so many have lost their jobs, this is the path to a strong recovery.  After so long, this is the path to safely returning to normal activities as soon as possible.   
I now recognize the distinguished Ranking Member, Mr. Scalise, for his opening remarks.
###