Chairman Clyburn's Opening Statement at Hearing with Emergent BioSolutions' Executives
Washington, D.C. (May 19, 2021) —Rep. James E. Clyburn, Chairman of 

the Select Subcommittee on the Coronavirus Crisis, delivered the following opening statement at today's 
hybrid hearing
 with Mr. Robert Kramer, President and Chief Executive Officer of Emergent BioSolutions, Inc. (Emergent), and Mr. Fuad El-Hibri, Executive Chairman of Emergent: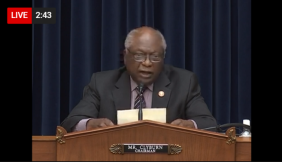 Remarks (as written):
Good morning. Thank you to our Members and today's witnesses for joining us today. The coronavirus pandemic has brought out the best in many of our citizens. We have been inspired by the doctors, nurses, and other front-line workers who have put their own lives on the line to help others, and by the scientists who created life-saving coronavirus vaccines in record time.
At the same time, others have sought to profit from the pandemic, put lives at risk, and violate the public trust.
That is why we are here today.
Last year, the Trump Administration awarded Emergent BioSolutions nearly $650 million in taxpayer funds to manufacture coronavirus vaccines that were then being developed by companies like Johnson & Johnson and AstraZeneca.
But nearly a year later, Emergent has destroyed millions of vaccines due to contamination and millions more are being held back for testing to ensure they can be used—all due to Emergent's failure to properly maintain its facilities, adequately train its staff, and ensure that proper protocols were followed.
I want to be clear: This hearing is not about questioning the safety or efficacy of vaccines that have been authorized for use. The vaccines available to the public are safe and effective and I encourage everyone who has not been vaccinated to do so as soon as you can.
Emergent's failures are disappointing precisely because these vaccines are so effective. Because the company was unable to deliver, the vaccinations of millions of people around the world have been delayed, putting their lives at needless risk.
This morning, the Select Subcommittee released a Staff Memorandum detailing several concerning findings from our investigation into Emergent.
The documents released today shed light on the multiple warnings Emergent received last year regarding serious manufacturing problems at its plant—including a new report regarding a June 2020 inspection which found that Emergent had an inadequate contamination control strategy at its vaccine production facility.
The documents also reveal that—after failing to heed these warnings and contaminating millions of doses of critically-needed vaccines—Emergent determined that its executives' performance merited millions of dollars in bonuses.
These documents provide insight into the dysfunction at Emergent that caused so many life-saving vaccines to be ruined, but also leave us with many questions.
We have questions about how these vaccines came to be ruined—not just this past February when Emergent had to destroy up to 15 million doses of the Johnson & Johnson vaccine—but in at least three other incidents last year.
We have questions about why Emergent failed to take action to fix the manufacturing problems plaguing its plant—even after the company was warned that its poor practices led to a very real risk of contamination.
We have questions about why the Trump Administration invested so much in Emergent in May 2020, particularly when an FDA inspection conducted just a month earlier raised serious red flags. Former President Trump's own Assistant Secretary for Preparedness and Response has admitted that he knew that the decision to entrust hundreds of millions of dollars with Emergent was a risk, yet he did so anyway. Documents released today raise new questions about what exactly Emergent was being paid to do.
We have questions about whether Emergent was favored for these lucrative federal contracts because of its close relationship with the Trump Administration appointee who was responsible for them.
We have questions about how the company's actions for several years leading up to the pandemic squeezed budgets and deprived our country of critical supplies, inhibiting our ability to respond when the virus reached American shores.
We have questions about whether Emergent executives earned the millions of dollars in bonuses they were awarded while all of this was happening.
I look forward to hearing from today's witnesses so that the American people can start to get answers.
But today's hearing is only the beginning. The Select Subcommittee, along with the Committee on Oversight and Reform, has opened an investigation into Emergent and its troubling practices.
I would like to thank Chairwoman Maloney for joining me in this important endeavor. I now recognize her for a two-minute statement.